Days out near St. Luke's
St Luke's is blessed with its location. It is often referred to as "The church in the pinewoods" but that is only part of the story. A walk from the church goes through the pinewoods to open heath land, then sand dunes and finally the beach. On the way some quite rare creatures may be seen - red squirrels and, if you are very lucky, natterjack toads. The picture above shows pine trees in the distance viewed from near the sand hills.
The Sefton Costal Footpath extends for 21 miles, 34 km from Crosby in the south to Crossens, just north of Southport, but there is no need to walk all of the path. The route goes through the Ainsdale National Nature Reserve, and passes a short distance to the west of St. Luke's. If you are walking the route on a Friday or Saturday in spring or summer why not stop off at our tea room?
Two miles north of St Luke's is the National Trust's Formby nature reserve. There are short marked walks through pinewoods that are home to red squirrels, and car parks close to the beach. The area gets very busy at weekends and in school holidays when the weather is favourable.
A few miles south of St Luke's is Antony Gormley's Another Place. This consists of 100 life size statues on the beech at Crosby. The statues are made from cast iron and look out over the estuary of the Mersey. At high tide most of the statues are submerged, so please check the tide times if you want to see them.
Some ten miles north is the all-year-round resort town of Southport. Quite low cost park-and-ride is signposted or travel by bus or train from Formby. Southport is well known for its shopping areas, especially Lord Street, gardens and leisure lakes. There is an annual flower show and other events like an air display, firework competition and concerts in the park.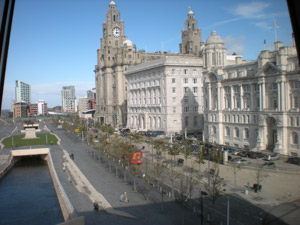 Ten miles south is the City of Liverpool with its many attractions. Parts of Liverpool have World Heritage status, including the waterfront. There are several world class museums and art galleries, and two cathedrals to visit. Liverpool is blessed with many shops and restaurants and is good for several days out. The picture to the right shows Liverpool waterfront viewed through the window of the Museum of Liverpool
There are many more things to do in the area, so we hope we have given you a few ideas. One final thought though, St Luke's church itself is a Grade 2 Listed building and is worthy of a visit.