Mums and Tots
Mums and Tots are not meeting at present.
Our informal and friendly band meets every Monday in term time; 1.30 -3pm, in the Meeting Room adjacent to the church. Anyone caring for a child or children under school age is welcome to join us.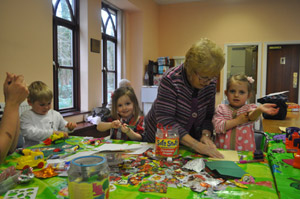 Although carers remain responsible for their charges, they are able to relax and chat over a cuppa and a slice of cake whilst the little ones play or create as they wish. Folk can attend as frequently or infrequently as they are able.
At present we can accommodate a few more, so newcomers are free to join us whenever they like.
For more information, please contact us stating that your message is for Linda Trollope, ask at church, or just pop in on a term time Monday afternoon, we'll be pleased to see you!