1914-18
1939-45
Not on Memorial
John Aindow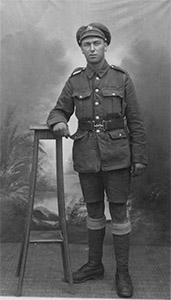 John was was born January 10th 1987. He was the son of Robert and Kate Aindow of 30 Queens Road, Formby. (Kate had been Miss Kate Brown before marrying.) Curiously, like R Balshaw's family, in 1901 they had been living at Massey Cottages. There were other children as well as John: Harold, Eleanor, Anthony (prisoner of war in WW1 in Germany but came home), William, Frederick, and Dorothy.
John was a private in the 1st/9th Bn The Kings (Liverpool Regiment). He was killed, age 19, on 22 September 1917 and is remembered at the Tyne Cot Memorial
Eleanor was the great-grandmother of Esther McKay who we thank for the picture and some information. She moved to the states where she met and married another Brit who had met and moved to the states and they settled in Massachusetts.