1914-18
1939-45
Not on Memorial
Fredrick Taylor
The Crosby Herald of 28 July 1917 carried the following report.
A FORMBY RIFLEMAN KILLED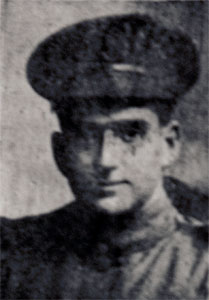 RIFLEMAN FREDRICK TAYLOR
Who was killed at the Front, July 7th 1917.
Rifleman Fredrick Taylor, whose death we regret to record, was the third son of Mr. Edward Taylor, Las Palmas, Jubilee Rd, Formby. He was 21 years of age, and joined the King's (Liverpool Regiment) in February 1915. He was educated at Bootle Technical School and afterwards at Grove Park School, Wrexham and before joining the colours was in the employ of Messrs. Mann and Crosthwaite, of Liverpool. In January, 1917, Rifleman Taylor went to France with his company. A little time before he was killed he took part in a night raid, and when returning he saw a wounded comrade drop near the German lines. He went to the man and managed to get him into a shell hole, where he bandaged his comrade's wounds and stayed with him all night. On the following morning he arrived in his own lines bringing the wounded man with him. On the 7th July whilst walking near the trenches he was struck on the head by a shell which had been fired by the Germans at long range and death was almost instantaneous.
In a letter received by Mr. Taylor his Captain writes:- It is with deep regret that I have to inform you that your son, Rifleman F Taylor, was killed this morning whilst walking along one of our back trenches. He was hit on the head and stomach, and death was almost instantaneous, so I don't think he could have suffered any pain. It was a heavy German shell fired at long range, and no precautions could have been taken to avoid the accident. The same shell wounded three other men who were asleep in a dugout which your son happened to be passing. It may interest you to know that though we have been in France for nearly five months and have been within range of the German guns nearly all the time your son is the first man of this company who has been killed. His death will be a great loss to the company for he has done a lot of useful work while we have been out here. Only about a fortnight ago he volunteered to take part in a raid and distinguished himself by staying out in "No Man's Land" all night with a wounded comrade, - he succeeded in getting into our trenches about 10 o'clock the following morning, bringing the wounded man with him.
Please accept my most sincere sympathy in your great loss.
In a letter also received from the Front by Mr. Taylor the Chaplain to the battalion writes:- "You may have heard ere this that your brave son, Rifleman F Taylor, has made the supreme sacrifice and given his life for his country. As Church of England Chaplain I performed the last rites by the graveside on the following day. He is buried in a beautiful cemetery not far behind the lines. I have arranged for a photograph of the grave with cross erected by the battalion to be sent to you in course of time. May I offer you my most sincere sympathy in your great loss. I trust you will have strength which God alone can give in this time of sadness.
The Corporal, after referring to the death, wrote:- He was a very brave lad, and well liked by his comrades, and I ask you to accept my most sincere sympathy in the sad loss which his death means to you.
The Second-Lieutenant of the Battalion wrote:- He died a soldier and at his duty. I feel his loss very much, having had him in my platoon for the last 12 months. He was always attentive to duty and trustworthy and a soldier in every way.