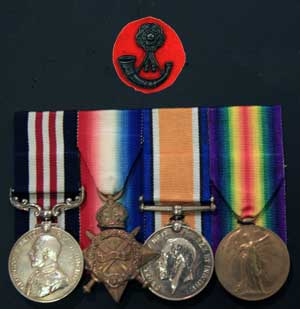 Charles Kenneth Nuthall Kemp MM.
Kenneth was born in Darlington, County Durham, and came to Formby with his parents, Herbert Edwin and Jessie. They lived at "Westfield" on Jubilee Road.
He was a Lance Corporal in the 1st/6th Battalion King's (Liverpool Regiment), Service No:240452, and was killed on 10 September 1916, at the age of 20. He is buried in the Serre Road Cemetery No 2, Somme. His grave reference is XXXIII. H. 9
The medals in the picture are the same as those held by Kenneth. On the left is the Military Medal. The other three, referred to as a trio, were awarded to all soldiers who served in France at the same time as Kenneth and are, from the left, 1914-15 Star, The British War Medal and the Victory Medal.
We have very little information about the award of the Military Medal to Kenneth, but the text of an article from the Formby Times of August 11th 1917 is reproduced below: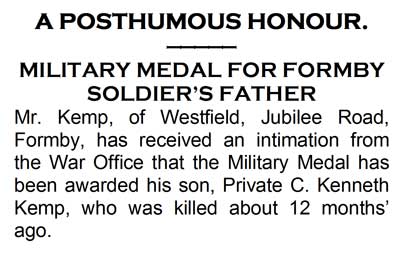 See Commonwealth War Graves Commission website