Stuart Stoke Shaw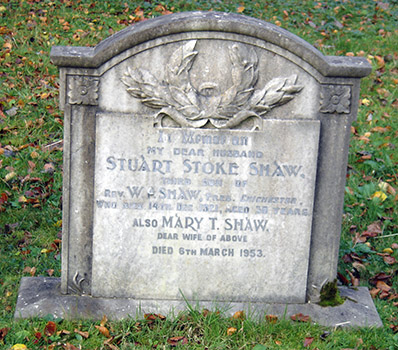 Headstone on grave in St. Luke's churchyard.
Stuart is not officially recognised as a CWGC casualty because he died on 14 December 1921, four months after the official cut-off date for eligibility. Tthe Charterhouse School Register 1872-1900 records that he "died at West Stoke of war injuries. We do not know a great deal about him, but Mr. Tom Pearson-Chisman from Charterhouse tells what they know.
Stuart was born on 27 November 1883, the third son of Reverend William Frederick Shaw (1843-1931), Prebendary of Chichester Cathedral and Rector of West Stoke, Chichester (1873-1931). His mother was Emily nee Bradford (1847-1891) who died when he was seven. He had two older brothers, William Arnold, who followed his father as Rector of West Stoke (1931-1938), and Neville Frederick (1870-1962), who was later Rector of New Fishbourne, Chichester (1912-44).
Stuart was at Charterhouse school from 1897 to 1901, where he was in 'Verites' house. Afterwards he became an engineer. In October 1909 he married Mary Theresa Sweeney (1881-1953) in Blackburn and they had (at least) three children: Geoffrey Bernard (1911-1994), Catherine (1912-1992, spinster) and John Stuart (1915-1975). They couple were resident in Formby by 1911.
Stuart would have been 30 when war was declared. He joined the King's Liverpool Regiment on 27 October 1914 and was posted to the 1/7th (Isle of Man Volunteers) Battalion (Territorial Force) which was headquartered at 99 Park St, Bootle and remained there until 8 March 1915 when it was sent to the Western Front.
Unusually for a man of his 'class' in the 1910s (a public schoolboy and the son of a clergyman) he was a private soldier, rather than an officer. Of the 698 Old Carthusians who died in WW1 or soon afterwards, only 26 were not officers. Often there are interesting stories behind these reasons, though it is not known if there are any in Stuart's case. He served the entire duration of the war, being wounded three times and spending some of that time as a PoW. He was discharged on 26 April 1919.
He was only to live another two and a half years and when Mary died some thirty years later, she was buried in the same grave.
Stuart's grave was visited by Mr. Tom Pearson-Chisman on 17 July 2018 as part of Charterhouse School's project to visit and photograph the graves and memorials of all of its 1,060 fallen of the two world wars and subsequent conflicts. Their progress can be vewed at http://oc.pearsonchisman.com. Clicking on the poppies (red ones have been visited) reveals details of the old boys at each location.