1914-18
1939-45
Not on Memorial
John Brown Horsfall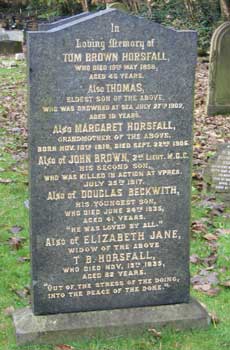 Family memorial stone in our churchyard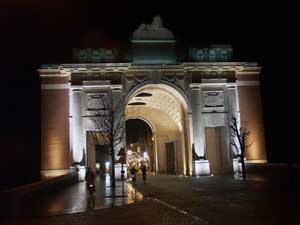 John Brown Horsfall M.G.G. was a 26 year old 2nd Lieutenant with the Machine Gun Corps when he was killed at Ypres on 25 July 1917. He was the son of Tom Brown and Elizabeth Jane Horsfall of 12 Elson Road Formby. His body was either not recovered or not identified, and he is remembered on the Menin Gate memorial at Ypres (modern Ieper). Before the war he had worked for the Mersey Docks and Harbour Board. See Commonwealth War Graves Commission website.
An article from the Formby Times of 4 August 1917 is reproduced below.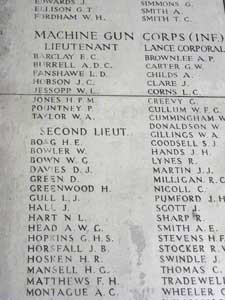 John's name is to be found on the Menin Gate. The picture to the left shows the gate, which is more tunnel than gate, a sad indication that a lot of wall space is needed for so many inscriptions. Every day, 365/366 days a year, they stop the traffic driving through the gate at 8pm for a brief memorial service, basically the Last Post, but on every Saturday it's for about a quarter of an hour. The pictures were taken on an insignificant winter days yet there were still over a hundred people there each night, and 2 or 300 on the Saturday. Some names, including John's, can be seen on the photograph, to the right, of part of the inscriptions on the gate.
John's name does not appear on the war memorial in church, but we have found him mentioned on a memorial stone in our churchyard. We don't know why his name was omitted from the war memorial. If you are able to give us any more information, please contact us.