Robert Balshaw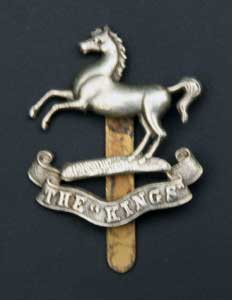 Robert was in the 7th Bn, The Kings (Liverpool Regiment). The Battalion badge is shown to the left.
He had been a labourer and enlisted on 8th August 1914 when 19 years of age
Robert was killed in France, age 20, on 20 May 1915 from "Wounds received in action."
He was the grandson of William James & Ann Blevin of 3, Massey Cottages, Formby, who army records show as his next of Kin.
His grave is in the Boulogne Eastern Cemetery