Richard Formby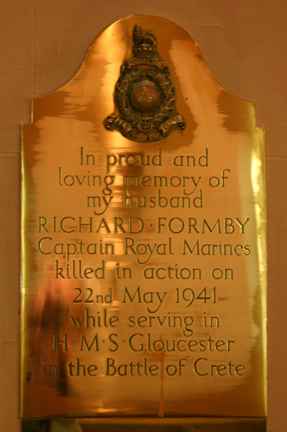 Brass Plaque on the wall of St. Luke's
Richard Formby was Katherine McNabb's brother, and local knowledge suggests that he was a professional soldier. He was a Marine Captain, killed on 22 May 1941 serving on HMS Gloucester in the Battle of Crete. The Gloucester was a cruiser commissioned in 1939, and bombed by German aircraft. In total 45 officers and 648 men were killed when she sank.
His memorial, above, is along the South wall of the church, and close to Colin McNabb's memorial.
See Commonwealth War Graves Commission website
For more information on HMS Gloucester see fighting the U-boats.