1914-18
1939-45
Not on Memorial
C. L. Thomas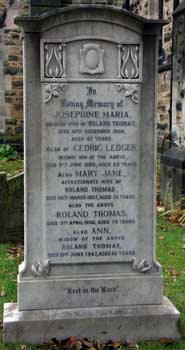 Cedric's grave is near the south-east corner of St. Luke's church - see the photograph
He was a private in the Royal Welsh Fusiliers He died in 1920 but is classified as Commonwealth War Dead.
His parents were Roland and Josephine Thomas, of West Road, Carr's Crescent, Formby. he was born at New Ferry, Cheshire.
We have no other information and would like to hear from anyone who can tell us more.