1914-18
1939-45
Not on Memorial
Stanley Kenneth Morrison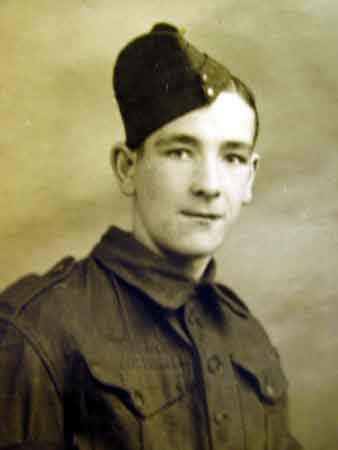 Stanley was the son of William Elias Morrison and wife Edith (born Hose). He had one brother (William Henry) and two sisters, Ruby and Edith. Edith's parents (James Hose and Elizabeth Hose, nee Aindow), William, Edith and their granddaughter Angela are all buried at St. Luke's. William and Edith lived their entire lives in Formby, beginning during the war. They lived first on Cambridge Road and later on Raven Meols Lane. Edith was born in Formby, as was her mother. Stanley's sister, Ruby moved to California in the 1960s, and his other siblings Edith and William still live in the area.
At the time this was written, January 2005:
William Henry Lived in Church Accrington, Lancashire. His children are William, John, Stanley, Christine, Norman, Peter, Brian, Pearl, Kevin and Patricia

Ruby Parsonage lived in Corona, California. Her children David and Lynnette lived in California

Edith (Misty) Jones Lived in Leyland, Lancashire. Her children are Ken, John, Brian, Keith, Shirley and Sharon.

Stanley's father served in both world wars, first in the Tank Corps and then in the 8th Army.
Last date recorded in Stanley's flight log was August 12, 1944. Details of the entry are:
Left at 19:40 in Halifax JN926, Pilot David Tabor, Rear Gunner, Special Ops (Warsaw) DCO. Light flak over area. Flying times 9:50 at night.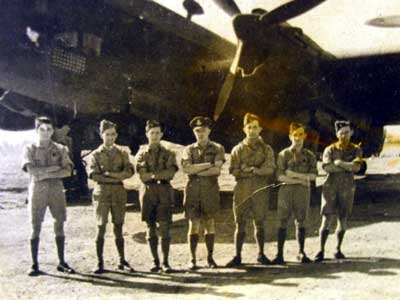 The picture to the left shows the crew of the aircraft. Left to right:
Sgt. Charles Edward "Johnny" Baines (Wireless Operator & Air Gunner RAF Volunteer Reserve #1145668)
Len (Bomb Aimer, no further information, not thought to be on last flight)
Flt Sgt. Bruce George Harold Robert Bean (Navigator, Royal Canadian Air Force #R/171347)
Flying Officer David Tabor (Pilot, RAF Volunteer Reserve #171098)
Sgt. Frank Stephen Knight (Mid-Upper Gunner, RAF Volunteer Reserve #1180468)
Sgt. Stanley K. Morrison (Rear Gunner, RAF Volunteer Reserve #1625843)
Fred (Flight Engineer no further information, not thought to be on last flight))
Died on the mission, but not pictured
Sgt. Patrick Joseph Gallivan, (Air Bomber, RAF Volunteer Reserve 1102394)
Warrant Officer James Howard Inch (Air Bomber Royal Canadian Air Force R/163741)
Sgt. Patrick King (Flight Engineer, RAF Volunteer Reserve 1821946)
Warrant Officer Douglas Malcolm Quarendon (Pilot, Royal Air Force #658807)
There were also three Italian Civilians.
Claudio Fiorentini, #1 Special Force, Italian Partisan
Giuseppe Primiceri, #1 Special Force, Italian Partisan
Giulio Terzi, #1 Special Force, Italian Partisan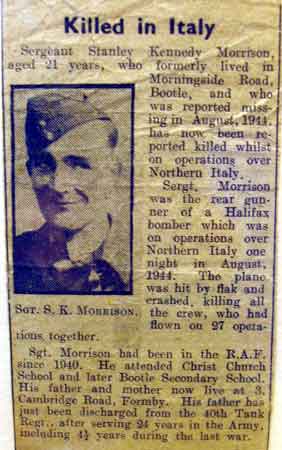 Stanley's death was reported in the press, as shown to the right. The text may be a little difficult to read, so it has been reproduced below:
Sergeant Stanley Kenneth Morrison, age 21 years, who formerly lived in Morningside Road, Bootle, and who was reported missing in August 1944 has now been reported killed whilst on operations over Northern Italy.

Sgt. Morrison was the rear gunner of a Halifax bomber which was on operations over Northern Italy one night in August, 1944. The plane was hit by flak and crashed, killing all the crew, who had flown on 27 operations together.

Sgt. Morrison had been in the RAF since 1940. He attended Christ Church School and later Bootle Secondary School. His father and mother now live at 3 Cambridge Road, Formby. His father has just been discharged from the 40th tank regiment after serving 24 years in the Army, including 4 1/2 years during the last war.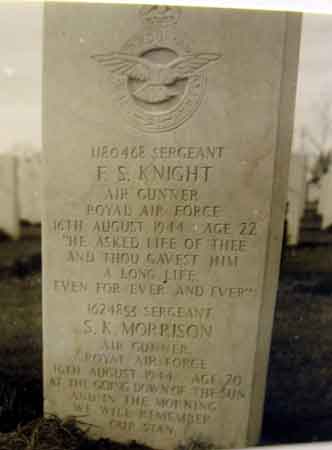 Record of British War Dead gives the following information on Stanley:
Name: MORRISON, STANLEY KENNETH

Rank: Sergeant (Air Gnr.) Regiment: Royal Air Force Volunteer Reserve, 148 Sqdn.

Date of Death: 16/08/1944, Age: 20

Service No: 1624853

Additional information: Son of William and Edith Morrison, of Formby, Lancashire.

Casualty Type: Commonwealth War Dead

Grave/Memorial Reference: Assisi War Cemetery, Italy, Coll. grave II. B. 9-12.
The headstone on his grave in the Assisi War Cemetery is shown to the left.
With thanks to Lynnette Siler, Stanley's niece and family historian who provided the information on this page.